Community Coffee Company Launches New Private Reserve Espresso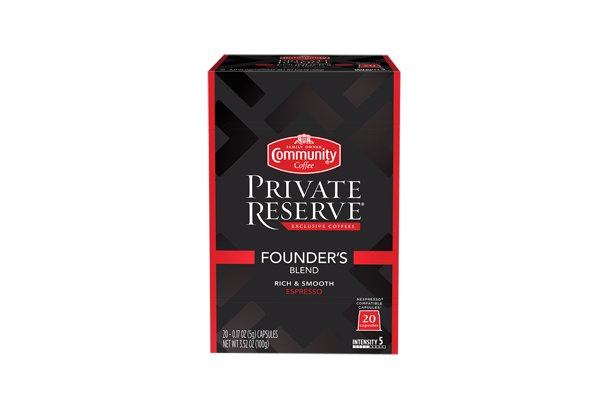 Community Coffee Company has expanded its coffee portfolio with Community Private Reserve Espresso, a new line of premium capsules compatible with Nespresso Original Line brewers. Crafted with 100% specialty grade Arabica coffee beans, Community Private Reserve Espresso is available in three exclusive blends: Signature Espresso, Heritage Blend and Founder's Blend. Each unique blend captures a story of Community Coffee Company's rich 99-year history and has been specially formulated to enjoy as espresso, offering consumers a high-quality, smooth espresso they can savour from the comfort of home.
"We're thrilled to give our customers a new way to enjoy the rich, smooth flavour of Community coffee," says Scott Eckert, vice president of marketing at Community Coffee Company. "Using recipes perfected over four generations, we developed Community Private Reserve Espresso for those who love to discover new tastes and enjoy specialty coffeehouse beverages."
With a rich, caramelised flavour, the Signature Espresso is roasted extra dark to create a full-bodied taste—perfect for enjoying straight or in a favourite drink. The Heritage Blend embodies the distinct flavours of Community Coffee Company's heritage and develops a bold flavour that is both balanced and full-bodied, while the Founder's Blend, created by fourth-generation owner Matt Saurage and inspired by Community's founder, offers ultra-rich flavour with a subtle intensity.
Community Private Reserve Espresso is available for purchase online and in regional markets across the southern US. The capsules are available in stores and online for an MSRP of USD $17.99 per 20-count. For more information or to purchase online, please visit www.communitycoffee.com.
Nespresso is a registered trademark of Société des Produits Nestlé S.A. Community Coffee is not affiliated with Nespresso USA, Inc or any of its affiliates.
Related content