illy debuts Arabica Selection India coffee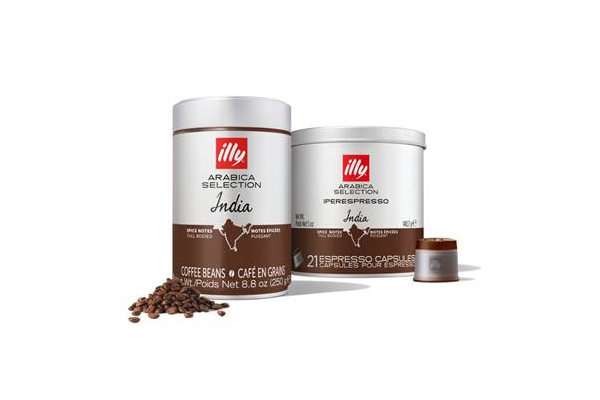 illycaffè, has launched Arabica Selection India, its fifth single origin coffee in the illy Arabica Selection product line-up. Tasting notes include a powerful body and distinctive notes of black pepper and extra dark chocolate.
The coffees in the illy Arabica Selection range are made up of single origin coffees from the best harvests in Ethiopia, Colombia, Brazil, Guatemala, and now India. These coffees offer the chance to experience the singular taste of each origin, celebrating their individual characters, and enhancing the taste and aroma of each one. The identity of each Arabica Selection is not only determined by its geographical origin – the experts at illy, together with internal research laboratories AromaLab, SensoryLab and Food ScienceLab, have developed the best roasting profile for each coffee, refining the perfect expression of each individual origin.
The coffees in the Arabica Selection offer a palette that reflects absolute quality. A range of intensities, from the most delicate to the boldest, are available. From floral notes of jasmine and orange blossom for Ethiopia, to fruity, with citrus and red berries for Colombia, to notes of caramel and nut for Brazil, and for Guatemala distinct notes of chocolate. The new Arabica Selection India brings out all the richness of black pepper and extra-dark chocolate. These flavour profiles are also reflected in the colours of the packaging.
"illy Arabica Selection is a range of the highest quality coffees, the result of illycaffè's experience in identifying and selecting the finest Arabica beans, and our ability to enhance the characteristic notes. It is a journey to the origins of the individual aromas that make up our blend, inviting coffee lovers to experience the evocative taste of each individual Arabica," said Massimiliano Pogliani, CEO of illycaffè s.p.a.
illy Arabica Selection India is available in 250g whole bean cans for a retail price of $14.99 and Iperespresso capsules (18 ct) for a retail price of $18.99. Both are available exclusively at illy.com and in illy shops.
Related content