NY Coffee Festival Celebrates Specialty Coffee in the Big Apple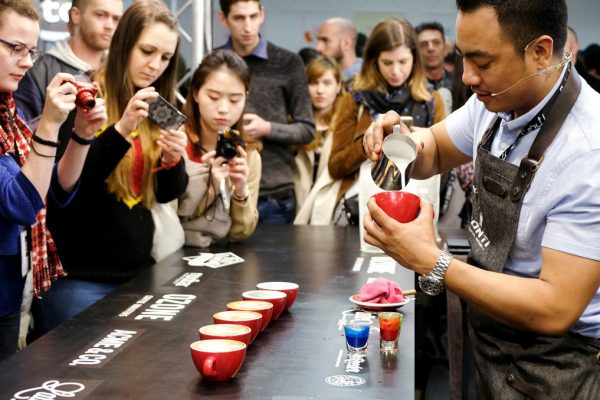 The New York Coffee Festival returns to New York City for its fourth annual event, which takes place 12-14 October at the Metropolitan Pavilion. Celebrating the burgeoning specialty coffee scene in the Big Apple, the NY Coffee Festival will offer exceptional coffee, food, coffee cocktails, live music and coffee-inspired art.
This year's event will include more than 100 exhibitors, including: Alpha Dominche, Stumptown Coffee Roasters, Devocion, Coffee of Grace, Five Elephant, Gotham Coffee Roasters, Joe Coffee Company, Bluestone Lane, and among others. The three-day festival will also feature The Lab program offering interactive demonstrations, educational workshops, talks and tastings, the Coffee Music Project, and the Coffee Art Project, as well as:
• Coffee Masters New York – sponsored espresso-machine manufacturers, Slayer Espresso, this barista competition is a fast-paced knockout battle format that will see 16 baristas showcase their skills head-to-head across a broad range of disciplines. Judged by a panel of leading industry figureheads, the winner receives a prize of USD $5,000.
• Latte Art Live – an interactive zone dedicated to the highly popular skill of latte art. In past years, local heroes like Jai Lott and Barista Dee, and international names like Dritan Alsela, Dhan Tamang, Lem Butler, and Luke Shilling, have taken to the stage. Attendees can take part in hands-on workshops and demonstrations where the pros will teach them the techniques and skills behind jaw-dropping masterpieces.
• The Village – is where attendees can discover innovative products, cutting edge brands and exciting new businesses. They'll be able to meet the personalities behind 2018's coolest local brands and small businesses, in addition to catching inspiration from awesome technology, next-level apparel, and the freshest micro-roasters.
• The Coffee Cocktail Bar – is a collaboration with coffee liqueur heavyweight Mr Black, which will be serving indulgent cocktails with high buzz-factor. This year, the focus is on the classic Espresso Martini.
One hundred percent of profits are donated to Project Waterfall, partnering with NYC-based charity: water to deliver life-changing water projects in coffee-growing regions. Since 2011, Project Waterfall has raised over $1.5 million, bringing clean water to more than 37,000 people across seven countries. Find out more about Project Waterfall at projectwaterfall.org and charity: water at charitywater.org.
On this year's festival, Allegra Group CEO, Jeffrey Young shares, "We're super excited to be back for another New York Coffee Festival. The Festival is a vibrant celebration of the specialty coffee scene, and this year is the most dynamic ever, with unlimited free coffee tastings and workshops, plus an exciting array of local and international roasters, a host of new products and inspiring brands to discover. The prestigious Coffee Masters – New York competition will again rally the crowds and Latte Art Live is set to be a showstopper as leading latte artists from New York and abroad showcase their incredible skills, all in the name of great coffee and charity."
For the first time, the festival has introduced a new "Super VIP" ticket package, which offers three-day access to the event, a dedicated VIP entrance, complimentary cocktails from The Coffee Cocktail Bar, and a VIP goodie bag, full to bursting with gifts from some of your favorite brands and a brand new copy of The New York Coffee Guide.
For details or to register for the New York Coffee Festival, visit www.newyorkcoffeefestival.com.
Related content