A New Era of Japanese Black Tea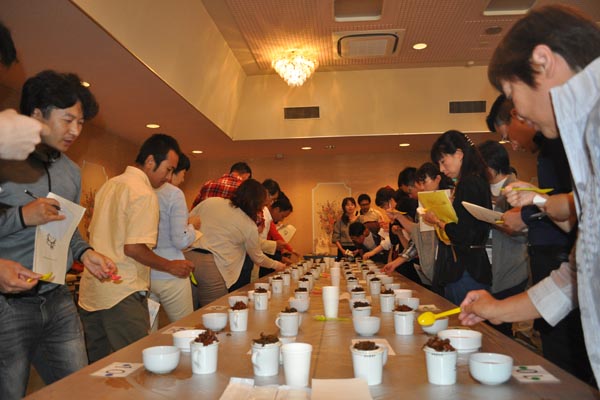 Japanese green tea is world renowned, but now it has some competition. Although small, black tea production is a growing industry in Japan and unlike green tea, is attracting young producers.
By Yumi Nagatsugawa  All photos courtesy of Yumi Nagatsugawa
Japan is known as a green tea producer, and most of its steamed green tea is produced and consumed locally. The country had tried to produce black tea mainly for export purposes for several decades, but this ended in 1971 when the restriction for importing tropical products including black tea was lifted. The crucial reason the Japanese black tea market collapsed was its high cost of production so it wasn't price competitive in the international market. Since then, Japan has been importing black tea from large scale producers such as Sri Lanka and India, or re-exporters — mainly the UK and other European countries.
The production of Japanese black tea once peaked at nearly 8,000 metric tonnes in 1953. However, after the liberalization of black tea imports, the quantity sharply dropped to several tonnes a year. Even under such tough circumstances, some producers kept making black tea.
Therefore, they sustained the tradition, technique and some cultivars suitable for black tea.
In recent years, a new wave of Japanese black tea production has appeared, and both its quality and quantity are showing dramatic improvement. One of the nationwide black tea competition's finals was held on 1 October, in which 112 teas from 17 prefectures were entered.
The yearly competition, namely "Japanese Black Tea Grand Prix" has been conducted by Owariasahi City in Aichi Prefecture since 2015, and the teas are ranked purely by cup-taste preference of judges. The competition in 2017 was split into two categories: "Teas for Sales," which required at least one kilogram to sell to the public, and "Challenge," which can be more innovative or creative without obligation of sales. Ten teas from each category advanced to the final, and eight tea specialists and about 80 volunteer public judges took part in the tasting. The judges marked one for the teas they like, two for average teas, and three for teas they didn't like. Therefore, teas that received smaller points showed they are more preferred, and the tea that received the least points was awarded as the Grand Prix. As a result, Kai Seichaen of Teaholics in Miyazaki Prefecture, won the Grand Prix in the Sales category, and Kanigawa Seicha in Okinawa prefecture was granted another Grand Prix in the Challenge category ("Sei-Cha" means "manufacturing tea").
The chief judge, Yoshiyuki Takeda, the chairman of the Japanese Society of Tea Science and Technology, commented that the competition received the largest number of teas this year, "and it was obvious the quality of those teas has improved notably. An impressive fact was that no tea was absolutely disliked by all judges. Even quite characteristic teas were favoured by someone in the event. Therefore, every tea has a possibility to find its targeted market."
Gaining a Young Following
Japanese black tea in general is smooth and less pungent or bitter. Therefore, it is enjoyed without milk or sugar, and goes well with Japanese foods. Another remarkable feature of highly appreciated teas these days is that most of them are made from Benifuuki Cultivar. Benifuuki is a relatively new variety, named in 1993 and registered in 1995 as the first cultivar in Japan suitable for both black and semi-fermented (oolong) teas. In this competition, 70 percent of teas that proceeded to the final were manufactured from Benifuuki leaves, including both Grand Prix awarded teas.
"Just like Yabukita cultivar for green tea, which dominates 80 percent of tea fields in Japan, Benifuuki is exclusively favoured in black tea competitions. Furthermore, there are three other black tea competitions lately and award-winning producers are limited in numbers," said Takeda.
Currently, there are no accurate statistics of Japanese black tea production. The most reliable figure based on interviews estimated 120 metric tonnes were produced in 2015, and 245 tonnes in 2016, with increases expected in 2017. "I believe the quality of recent Japanese black tea is as superb as the world's finest teas. However, the quantity is limited and the cost of production is quite high," said Takeda, noting that the producers' price can reach JPY 20,000 (USD $179) per kilo, which leads to JPY 30,000 (USD $268) per kg for consumer price.
He said that such teas cannot be marketed nationwide by the common food distribution channel, but the existence of those unique teas in each tea-producing region is attractive for tea drinkers. "If those teas are sold in a 30g packet at JPY 300, most probably they are well accepted and welcomed by consumers, which is why I suggest marketing Japanese black tea," Takeda explained. "In addition, green tea producers who manufacture high quality black tea benefit as they can sell more green tea stimulated by their good black tea items."
Another favourable factor is that young people are now enthusiastically trying to make quality black teas. Japanese farmers, including tea producers, are facing an aging problem and lack of successors. However, some of the finalists of this competition were the next generation of the industry. For example, Hasama Seicha Cooperative in Mie Prefecture managed by Shunsaku and Chika Yamanaka (father and daughter) won the Gold Award in the Sales category, and Semi-Grand Prix in the Challenge category.
"I was born and brought up in a green tea-producing family, and making green tea is a day-to-day work for us. I've never been praised when I'm involved in green tea manufacture. On the other hand, making black tea is really challenging and I enjoy even the struggle of trial and error," said Chika. "Furthermore, I'm glad when I'm appreciated by making black tea. When we demonstrate our green and black teas in events, we note many consumers still don't know black tea is now produced in Japan. Therefore, black tea can draw attention of consumers, and when they pick up some black tea for a try, quite a few of them buy green tea as well."
The Grand Prix winner in 2015 and 2016 was Hirosato Goto of Goto Seicha in Aichi Prefecture. This 32-year-old hand-made tea specialist secured the Semi-Grand Prix in each category this year. Goto didn't aim to keep winning the Grand Prix for the third consecutive year, but tried something new in order to differentiate from other contenders' teas. He didn't submit his best tea of this season, rather, he used inferior lots from last year, and refreshed them this year by roasting after keeping those teas for maturing.
Roasting is a commonly used technique in Taiwanese oolong tea. Goto heard about the method but didn't know how it was conducted. He examined different temperature and time durations, and finally found the best possible way. "The reward of both teas was quite satisfactory to me, and I feel honoured that my roasted teas were well accepted and reputed by judges. This competition provides a great opportunity to seek a new way of manufacturing and potential markets," said Goto.
Goto Seicha was founded in 1927, and Goto's experimental black-tea making is warmly encouraged by his parents. His father, Motonori Goto said, "carrying on green tea production is becoming tougher year by year, and it doesn't seem to be exciting for younger generations. However, an increasing number of youngsters have found black tea manufacturing stimulating and inspiring nowadays. [It would be] nice to see if they could succeed in the tea industry."
Yumi Nakatsugawa has been working as a freelance writer specializing in food and restaurant management. While freelancing, she developed a love of black tea as well as tea-producing countries and tea people. Her passion for black tea has brought her to Sri Lanka, India, Kenya, Indonesia, Nepal, Malaysia, and Papua New Guinea to see tea production first hand. Based in Japan, Yumi may be reached at: ym_n@nifty.com.
Related content