Rewriting coffee's genetic code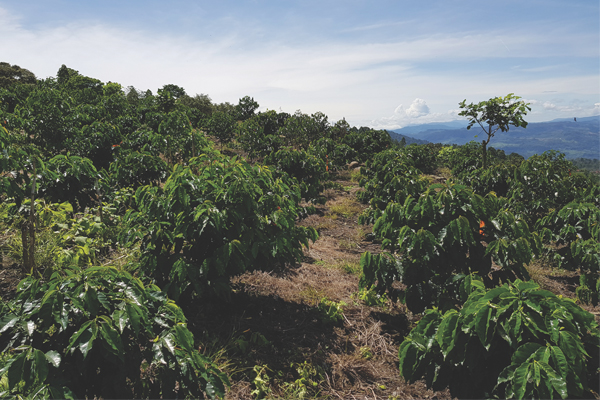 Genetic diversification within Arabica plants is critical to help the species become more adaptive and resilient. By Anne-Marie Hardie
The coffee genetic story begins as a simple one. The domestication process of Arabica, over the years, substantially diminished the diversity of the plant. This lack of variance within the genome makes the species extremely vulnerable to any shifts in climate, abiotic stressors, disease and pests. Genetic diversification within the species is critical to help cultivate a foundation that is both adaptive and resilient.
There are several gene banks worldwide that are highly invested in researching the genetic diversity of this plant. "The next steps are to ensure that the existing gene backs are secure, and to encourage sharing and more global collaboration across the industry," said Sarada Krishnan, director of Horticulture and Center for Global Initiatives, Denver Botanic Gardens.
Historically, breeding programs for coffee happened at the country level. "There were really good reasons for this practice, producers lived and existed within the economy of that country," said Hanna Neuschwander, director of communications, World Coffee Research (WCR), College Station, Texas. Traditionally, funding came from large development grants that were helping to promote and stimulate breeding in the country.
The identification of the Arabica genome has paved the way for continued advancement in this field, allowing the researchers to characterize the germplasm and specific traits. "Genetics presents the opportunity to secure new varieties that can adapt to the climate constraints including selecting plants for disease resistance, drought tolerance, and resilient to abiotic stressors," said Andre Charrier, researcher, Montpellier SUP Argo, Montpellier, France.
Breeding for Resistance
When coffee leaf rust threatened the industry, genetics was one of the key elements that researchers homed in on. It was through this process that scientists discovered coffee leaf rust-resistant strains. However, the effectiveness of these strains is diminishing.
"We imagine coffee leaf rust like a hacker working away at night to break a code, if you protect the rust with one single password (or in this case variety), it makes it easy for the rust to break the code," said Alvaro Gaitan, director, National Coffee Research Center, Cenicafé, Chinchiná, Caldas, Colombia. "However, if you add in different passwords (different genetic lines), it makes it harder for the rust to break all the passwords at once. The rust may infect a few plants, but not the entire plot." Genetic diversity essentially provides the farmers with the additional security that should a disease, pest, or environmental stressors occur at the farm level, their entire stock will not be negatively impacted.
Cenicafé's breeding program is focused on using genetic diversity. This strategy has been in place in Colombia for decades, however, having access to the genomic information has helped to isolate desirable traits within the plant. "We are testing the collection in different environments to see which strains produce faster, are more resilient, better tasting and looking at all the different aspects of production and diversity," said Gaitan.
From the farmers perspective, adding new varieties requires a change in their production practices (managing different flowering times, nutritional needs etc), and a proactive approach to respond to any resistance from their customers.
"Some farmers have made the investment to plant and renovate as their existing varieties weren't producing, but then they lose their customers," said Christian Bunn, postdoctoral fellow, International Center for Tropical Agriculture (CIAT), Cali, Colombia. Using certified material can help to manage this risk, but the consumer also needs to be educated on the need to increase diversity in the coffee field.
Screening for Quality
When it comes to combatting disease, said Shawn Steiman, PhD, founder of Coffea Consulting, Hawaii brings an interesting angle to the story. "We are in the middle of nowhere, so we are isolated by several of the more challenging diseases, like rust," said Steiman. Hawaii also doesn't have the same cost barriers, with consumers anticipating and accepting the higher price of Hawaiian-grown coffee.
The specialty coffee movement is creating a demand for Hawaii to produce interesting and new varieties, that are focused on quality. "Kona coffee is not enough anymore, genetics are now being used to create new coffee experiences," shared Steiman. The Hawaiian coffee industry is driven to become a player in the global specialty coffee movement. One of the ways that they are doing this is combining production techniques with genetically diverse strains to produce coffee that is both interesting and amazing.
Challenges and Benefits of F1 Hybrids
The intent for F1 hybrids was to create a line of plants that are biologically strong, able to cope with infestations and climate change, while also providing a quality cup. "We've discovered that if the plant is in good health, even if it doesn't have the specific genes to respond against coffee leaf rust, it can resist the pathogen," said Neuschwander. "Also, some of the well-managed varieties have scored over 90 in cupping competitions. "In the past, it was often an either-or scenario, with the F1 hybrids this is no longer the case.
F1 hybrids use two diverse parents to create an offspring that is packed with genetic diversity. However, the challenge is that this hybrid vigor appears to get lost across each generation of the plant. The overall accessibility of F1 hybrids would improve dramatically if researchers were able to mass produce the hybrids as seeds, instead of the current process of cloning the plantlets.
WCR researcher, Lucille Toniutti, in collaboration with CIRAD and AGI, discovered a potential solution to this challenge. "I found markers that allowed me to track the pollen-free trait creating a population of pollen-free (sterile) trees, which the breeders can now use to create the F1 hybrids," said Toniutti. She discovered that the main region in the genome that controlled for male sterility occurred on Chromosome 7 of the C canephora sub genome of C Arabica.
The Rwanda Breeding hub opened in the fall of 2018, this location includes WCR's core collection of 100 genetically diverse (wild coffees), which breeders can then use to create their crosses and test the new material at their farm. "We need more innovation when it comes to breeding," said Neuschwander. "The breeding hub enables coffee producers to become a part of the process."
The Role of Agroforestry
Agroforestry is often presented as a tool to help combat climate change. However, there is still resistance in several coffee-producing countries, mainly because the productivity levels of these farms are low when compared to cultivating coffee in full sun. "One of the reasons for the poor performance in agroforestry environments, is that the varieties that are selected are well suited for dry, full sun systems," said Benoit Bertrand, researcher at CIRAD. To be productive, the farmers need to introduce genetically diverse plants that produce well in shade conditions.
Bertrand has been investigating the genetic diversity in coffee for decades and its role in climate adaptation. "In the 1990s, I tried to cross an American variety with Ethiopian varieties," said Bertrand. "We discovered after making the first hybrid, that these plants adapted very well to both shade and full sun systems." This initial F1 hybrid received from its mother side the ability to adapt to the full sun, while at the same time, received the ability to adapt to shade systems from its father.
Increasing the diversity of the plant provides it with the ability to adapt to a variety of situations. However, genetic diversity can not be the only tool to help build resistance to climate change.
"If agroforestry disappears then biodiversity will be affected, that means that about five million hectares of coffee produced will disappear," said Bertrand. "How we can preserve these systems, is through system certifications, and providing farmers with a good price that will help to maintain these practices."
Adaptation Cannot Be Focused on One Solution
The decisions that farmers make today will impact them upward of 20-30 years. The challenge, shared Charrier, is finding plants that can evolve with the negative impact of climate change, both today and into the future.
"We don't truly know what the future pests and diseases will be that will cause the problems," said Bunn, "But we do know that by increasing variability in the gene pool and encouraging farmers to plant several varieties, will help farmers respond to these challenges."
Adaptation is not something that can be based on genetics alone. Certain key practices will need to evolve to help the plants mitigate these changes. "Genetics is a key aspect in helping the industry be able to discover sustainable products," said Bunn. "But in the short run, we need other solutions; genetics needs to come in a package with practical solutions." Farmers need to be looking at the entire production system so that no matter what conditions they are presented with, the farmers will have the tools to adapt to it.
"The coffee story cannot be looked at in isolation. It's not just about the producers, roasters, or consumers – everyone has a part to play, and this begins by understanding the barriers that occur when consumers continually demand cheap and easily accessible coffee," said Krishnan. "However, the farmers are the ones who pay the price for this. If consumers want to continue receiving high quality coffee, then they need to understand the importance of investing – paying a higher price – in the industry."
Anne-Marie Hardie is a freelance writer, professor and speaker based in Barrie, Ontario. She may be reached at: [email protected].
Related content