Smucker is getting bolder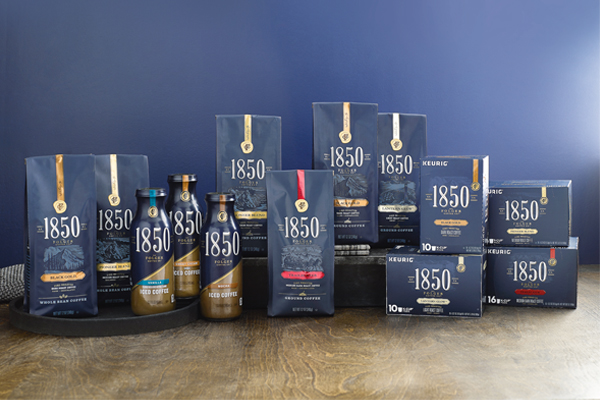 The JM Smucker Company's Joe Stanziano, senior vice president and general manager, coffee, and Tina Meyer-Hawkes, vice president of marketing, coffee, spoke with Tea & Coffee Trade Journal to discuss Smucker's foray into the coffee industry with the purchase of the Folgers brand, how sophisticating taste profiles are reshaping the market, and how the company is embracing the shift towards darker, bolder roasts. By Vanessa L Facenda
Ask any American to name an iconic commercial jingle, and surely "The best part of waking up is Folgers in your cup…" will likely be quite high up on most of their lists.
Coffee drinkers in America have been waking up with Folgers in their cups for more than 150 years, but for the brand's current owner – The JM Smucker Company – coffee is a relatively new sector. The Orville, Ohio-based JM Smucker Co ("Smucker") entered the coffee category with the acquisition of the Folgers Coffee brand in 2008 from The Procter & Gamble Company, based in Cincinnati, Ohio.
Eleven years later, Smucker now operates a coffee portfolio that generates estimated annual sales of more than USD $2.1 billion and is focused on further growing sales in North America. With approximately $1.5 billion in annual sales, Folgers is the top-selling retail (grocery/mass market) coffee brand in the United States. In fact, Folgers imports so much green coffee annually, its silo at the Port of New Orleans, Louisiana has 100 bins – the largest in the world. (Folgers coffee is roasted in New Orleans.)
Smucker's extensive coffee portfolio includes the Dunkin' Donuts Coffee at Home brand (which was part of the initial acquisition), the heritage Café Bustelo brand, which the company purchased in 2011, and the 1850 brand, which launched in April 2018. The name 1850 honours the year James A Folger founded The Folger Coffee Company in San Francisco, California amid the Gold Rush.
To ensure that its coffee brands appeal to new consumers today and for generations to come, Smucker continues to evolve its coffee strategy to keep pace with consumer preferences, and plans to further expand and diversify its coffee portfolio.
"Over the past couple of decades, more so the last 10 years since we entered the category, there has been dramatic shift in the coffee landscape and consumers' coffee taste profiles, which is reshaping the market," Joe Stanziano, senior vice president and general manager, coffee at Smucker, told T&CTJ. "With our portfolio, we have the unique ability to deliver on the changing consumer preferences."
Tina Meyer-Hawkes, vice president of marketing, coffee at Smucker, said that one of the most significant market influences is the rise of the café culture, which attracts younger consumers with espresso-based beverages and single origin coffees. These trends are also affecting the retail market, where Smucker brands do the bulk of their business. "Moving forward, much of our future innovation will be focused on darker and more robust roast profiles in order to leverage consumer preferences," she explained.
Smucker also wants the "coffeehouse style" coffee to be accessible to all consumers. "Four out of five cups of coffee a day are still consumed at home," said Meyer-Hawkes. "The consumer wants to be able to imitate that coffeehouse experience at home. With our coffee portfolio, we can meet these needs."
Embracing the "Dark" Side of Coffee
Embracing premium roast profiles was the motivation behind the 1850 brand, which Smucker developed to appeal to younger coffee consumers. "Folgers core or 'loyal' consumers tend to be older, but the 1850 brand over-indexes with millennials so we're bringing new consumers into the portfolio," Meyer-Hawkes shared.
Launched just over a year ago, 1850 Coffee, which has four varieties, already has estimated annual sales of $50 million. Targeted towards younger consumers, the brand draws on the heritage of The Folger Coffee Company, which was founded during the 1850s Gold Rush in California.
"Millennial consumers want authentic brand stories. That is the beauty of 1850, the story is real and it is backed by a distinct flavour profile," said Stanziano.
"Most younger consumers are having their first coffee at a coffeehouse and it tends to be a darker roast," said Meyer-Hawkes. "We want to translate that story into new roasts so they can bring the coffeehouse experience home from the grocery store."
Hence the creation of the 1850 brand, and a new Folgers-branded line. Pursuant to its focus on darker, bolder roasts, while pulling inspiration from the third wave that is unique to the brand, Smucker is debuting Folgers Noir this summer. "Folgers Noir features four different blends of dark roast coffee. It is designed to help consumers understand the nuances of coffee such as flavour notes but in a way that is approachable and easy to navigate," said Meyer-Hawkes.
Folgers Noir will be a national roll out to participating retailers, there is no tiered distribution. The MSRP will vary based on format and retailer.
Smucker is also meeting the needs of the espresso culture with its Café Bustelo brand, which celebrated its 90th anniversary in 2018, and generates about $150 million in annual sales. When it was founded in New York's Spanish Harlem, Café Bustelo targeted Hispanic coffee consumers – but that is changing.
"Cafe Bustelo celebrates its Latin Heritage, and we remain strong in our legacy markets such as New York City and Miami, Florida, as well as in new markets such as Chicago, Illinois and Los Angeles, California. We are also appealing to culturally opened-minded millennials in these markets," said Meyer-Hawkes.
Café Bustelo's roots are in small coffee shops where it was typically sold out of store-front windows. To honour Café Bustelo's heritage and the passion of the brand, consumer experience is a key component of brand activation. For example, Smucker has created popup cafés in select markets.
Meyer-Hawkes said they have leveraged the popup cafés to bring this experience to consumers, which usually take place over a weekend and offer consumers the opportunity to bring their families, sample the coffee and listen to live music. "We are really trying to keep the Café Bustelo brand authentic while reaching out to new consumers and markets."
Running with Dunkin'
Smucker acquired the Dunkin' Donuts brand with the Folgers purchase in 2008. The most loyal consumer is a Dunkin' shop consumer who wants to recreate that coffee experience at home.
"It was a nice, solidly performing brand, but we saw opportunities for growth," said Meyer-Hawkes. "The single serve business, which launched three years ago, set it on fire. [The Dunkin' brand] grew to $200 million the first year we introduced the single serve format. It is definitely a sweet spot for growth."
The Dunkin' Donuts brand, which will eventually be rebranded as Dunkin' to be consistent with the overall corporate re-branding, now generates an estimated $690 million in annual sales for Smucker.
As with Folgers Noir, 1850 and Café Bustelo, Smucker is also tapping into the shift towards darker, bolder roasts with the new Dunkin' Signature Series line of robust roasts. Ranging from medium to dark roasts, the Signature Series offers more of an espresso-based coffee experience. According to Smucker, the new line stands for "unpretentious quality," comprised of three of the [coffee] team's favourite roasts that have been specially crafted, and which round out Dunkin's roast portfolio.
The seven SKUs in the Signature Series line have MSRPs between $7.75 for an 11oz bag to $11.89 for a 16-count K-Cup. The product will begin appearing at various national retail outlets in June and July.
Expanding the 3rd Wave's Accessibility
Smucker closely monitors consumer trends to see what preference could be next. Commenting on how consumers, particularly the younger generations, have been impacted by the third wave of coffee, Stanziano said that Smucker wants to be able to bring that influence to mainstream markets. "We want to be able to take that third wave influence and make it approachable and affordable for mass-market consumers," he explained, noting that an example of this is the Cold Brew Coffee Kit under the Dunkin' Donuts brand.
Both Stanziano and Meyer-Hawkes pointed out that consumer preferences for convenience remains a dominant trend so future formats will be designed to meet these needs. Currently, Smucker is meeting this demand for convenience through its single serve offerings, which run across all four brands, as well as ready-to-drink beverages, which are available in the 1850 and Café Bustelo brands.
"We are very proud of the growth we have seen since we entered the coffee category 10 years ago, but even more excited about the tremendous opportunities ahead of us," said Stanziano. "We have great brands and a proven track record of successful innovation to meet consumers' needs and strong momentum."
The JM Smucker Company's three-pronged green coffee sustainability strategy – responsible sourcing, smallholder support and environmental efforts – will be covered in an upcoming issue of T&CTJ.
Vanessa L Facenda joined T&CTJ as editor in 2012. She was the editor of Retail Merchandiser and previously worked for Brandweek. She has also written for numerous publications including Consumer Digest, Adweek, Mediaweek, Specialty Food Magazine, Convenience Store News, Beverage World and License Book. Vanessa may be reached at: [email protected].
Related content