Coffee can change lives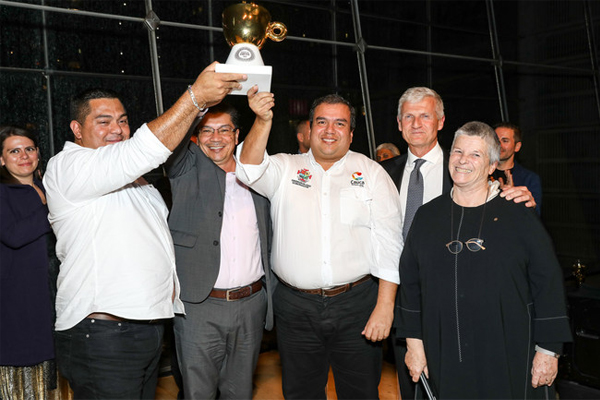 Image courtesy of illycaffè
The Ernesto Illy International Coffee Awards, presented by illycaffè, were held in New York City on 16 October. It was the fourth annual event – and my fourth time attending – and while it is always a touching evening watching producers from around the coffee-growing world, who are flown to NYC for the occasion (for many, it's the first time leaving their home countries), proudly accept their awards, this year's event was especially moving.
The top prize, the "Best of the Best" was awarded to 'Spirit of Peace Ex-Combatants' – Asacafè, represented by Carlos Arturo López Guarnizo and Oscar Rodrigo Campo Hurtado, whose beaming smiles conveyed their pride and joy before they even uttered a word of gratitude during their acceptance speech.
Addressing the audience after presenting the award with his sister, Anna, Andrea Illy, chairman of illycaffè, said, "It is an honour and a pleasure to recognise Colombia, 'Spirit of Peace' and Asacafè for their achievement, as well as applaud all of our finalists who are focused on producing the highest-quality coffee through sustainable methods.
"This award celebrates and honours the Spirit of Peace project, that we have supported since the very beginning, with the aim to give a chance to the rural Colombian community of coffee to become the engine of a bigger transformation through the economic reintegration of the ex-combatants and their victims in the Cauca region."
Coffee represents a strategic investment for the development of the Cauca region in Colombia and for the diffusion of a culture of peace. Pursuant to this, the ETCR (Territorial Spaces for Training and Reintegration) and Asacafé (Association of small coffee growers) aimed to increase the quality and productivity of coffee production in Cauca, where former FARC fighters and small producers reside, encouraging local economic development. There are over 600 ex FARC fighters in the four ETCR zones located in the Cauca who were eligible to participate in the project, as well as 480 small producers from the surrounding communities. Through the project, 550 hectares of coffee were to be planted.
In May 2018, Trieste, Italy-based illycaffè signed a memorandum of understanding in Colombia, establishing that illy will share its agronomical know-how – through a training program delivered by its University of Coffee technicians and agronomists – and will purchase the coffee lots produced by the former fighters meeting its quality standards. While coffee from this region has been produced and sold, Spirit of Peace (and Asacafè) is the first to win an Ernesto Illy International Coffee Award.
This reminded me of a comment made by former President Bill Clinton at the inaugural World Coffee Producers Forum in Medellín, Colombia in July 2017 during a panel discussion with Colombian President Juan Manuel Santos (who had recently been awarded the Nobel Peace Prize). He said that the Clinton Foundation works to make coffee an "anchor crop" with supporting crops to help decrease drug trafficking, emphasising that "Coffee is a magical resource if you do it right…"
So, coffee is an anchor crop, an instrument of peace, and can be life altering. How many other crops can boast that?
(For a full list of Award winners including the consumer-chosen "Coffee Lover's Choice," see Spirit of Peace Ex-Combatants named Best of the Best at Illy Awards.)
Vanessa L Facenda, editor Tea & Coffee Trade Journal. She may be cotacted via

[email protected]

.
Related content