UK coffeehouse market remains buoyant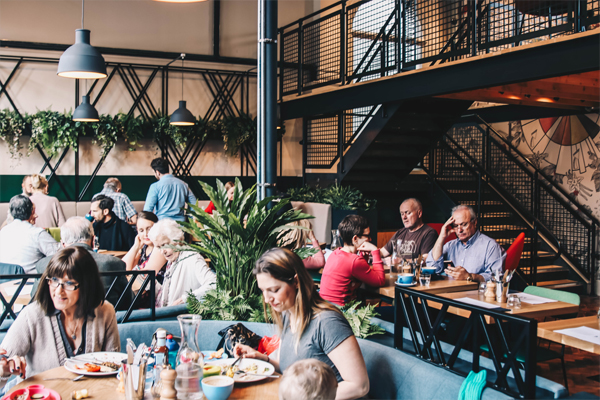 This month celebrates the 25th anniversary of the sitcom Friends, which took place in the local coffeehouse – Central Perk – almost as often as in the characters' apartments. When the show started in 1994, the "coffeehouse scene" in the United States was in its infancy. As the show grew in popularity, so did the concept of coffee shops and "hanging out in them." (I'm not saying Friends was the catalyst for coffee shop growth in the US or around the world, but… On a side note, and I have said this before, given the show's popularity, I was always surprised that no company developed a Central Perk-branded coffee line during the show's heyday given its legions of fans and consumers' love of licensed merchandise, but that's a topic for another day.)
Twenty-five years later, the US coffeehouse scene, while competitive and seemingly saturated, remains dynamic. The coffeehouse industry continues to grow in markets around the world. The coffeehouse market, particularly independent coffee shops, in the United Kingdom is especially vibrant.
The growth of the coffeehouse market in the United Kingdom began well after the US's. And while also challenging and competitive, the UK coffee scene remains formidable and poised for growth. New research from Allegra World Coffee Portal, estimates that more than 10.5 million cups of coffee are served each week in UK independent cafés. According to the London-based market research firm, the independent segment totals 7,000+ outlets with an estimated value of £2.4bn and is forecast to exceed 8,000 outlets by 2024.
Despite the difficult retail environment (rising labour costs and property costs are perceived as the greatest challenges facing independent coffee shops in the UK, ahead of business rates, and increasing competition), Allegra's survey found that 80% of independent coffee shop respondents reported positive sales performance in the last 12 months, with a majority citing coffee and service quality as key success factors. Three-quarters of industry leaders surveyed believe there is still plenty of growth potential for independent coffee shops in the UK.
Allegra's research shows more than 70% of independent café consumers surveyed purchase coffee to drink in-store compared with 56% of branded chain customers. Another 21% of consumers surveyed choose independent coffee shops based on service quality, compared with 16% at branded chains. Furthermore, 18% view atmosphere as greatest impetus behind visits compared with 8% at branded chains.
Commenting on the research, Allegra CEO and founder Jeffrey Young, said: "There's no doubt independent coffee shops face an uphill struggle compared to scaled competitors, particularly in today's highly challenging retail environment. But those independent cafés defined by razor-sharp menu quality and seamless, highly personalised hospitality face a very bright future indeed. I'm highly excited to see what the innovation a new generation of independent businesses bring to the market over the next few years."
Longer "dwell-times" also present an opportunity for menu diversification, such as non-dairy milk and vegan options, which are more likely to appeal to consumers under-30. Forty percent of this group surveyed indicate they are drinking more coffee at independents compared to a year ago, making them a key marketing demographic. Coffee shops will also benefit from diversifying their coffee selection as Allegra's research reveals that coffee from emerging origins will be a trend in the coming year, with less familiar varieties from Rwanda, Myanmar and China growing in popularity. Per the report, "strong wholesale demand from independent cafés, which often specialise in small-batch single origin coffee, reinforces this trend, as does heightened consumer consideration of coffee provenance."
A growing consumer trend for locally roasted coffee has contributed to a broad regional distribution of roasters in the UK, which can now be found in virtually every major town and city. Further research by Allegra shows a symbiosis between independent coffee shops and proximate roasters, with 44% of industry leaders surveyed anticipating the biggest growth channel for wholesale distribution will be independent cafés, followed by workplaces and contract catering.
The emergence of café roastery concepts marks another segment development in the UK. These retail concepts capitalise on the growing desire for coffee experiences by welcoming consumers into direct contact with the roasting process.
However, Allegra's research indicates that more work is needed to educate UK customers on the social value of ethically sourced coffee. An increase in sustainability initiatives polled highly among roasters surveyed, followed by direct trade, with 62% currently operating an ethical or direct trade policy. Yet, while 88% of roasters imply willingness to pay more for ethically sourced coffee, only 60% believe consumers are prepared to pay the same premium. (Of course, this issue is not exclusive to the UK.)
Forget twenty-five years, it will be fascinating to see what the "coffeehouse scene" will look like in the next five to ten years, in the UK and beyond.
Vanessa Facenda, editor Tea & Coffee Trade Journal. Keep in touch via

[email protected]
Related content