International Coffee Congress offers sustainability initiatives at work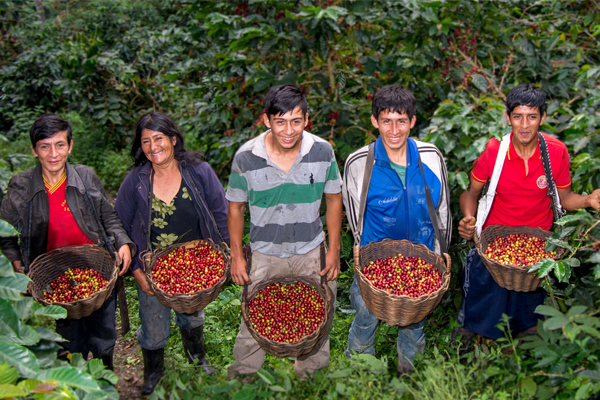 Image: JUMARP
In June, prior to the Specialty Coffee Association's (SCA) World of Coffee, the German Coffee Association (GCA) held an International Coffee Congress (ICC) on Sustainability, also in Berlin, Germany. Moderated by Holger Preibisch of the GCA, the one-day event on 5 June drew global participants from throughout the coffee supply chain to discuss improving sustainability within the sector.
I've attended countless conferences, conventions, lectures and events focused on improving sustainability within the coffee industry since joining T&CTJ, and many, many over the last couple of years that centered on the coffee price crisis. However, very few of these have offered actual strategies to combat the low coffee prices.
Jose Sette, executive director of the London-based International Coffee Organisation, the main intergovernmental organisation for coffee, outlined the economic, social and environmental ramifications of the low coffee prices. Although most people are aware of the economic implications (reduced plant care, less investment, lower quality, pauperization of rural areas, abandonment of production), many are unaware of the social and environmental issues, which include migration, social unrest, gender gap, employment conditions, deforestation, pests and diseases and climate change.
Sette informed attendees that the International Coffee Council of the ICO, approved Resolution 465 on Coffee Price Levels in September 2018, which encourages ICO members and all stakeholders to develop a sustainable coffee sector in economic, social and environmental terms. He then outlined the implementation plan, which includes advocacy and communication, mobilisation of coffee stakeholders, research, knowledge-building and transparency, and promotion of coffee consumption, and how the ICO is executing the strategies.
He also shared the ICO's policy proposals that feature increasing profitability (increasing productivity and efficiency through investment, improving cost structure of smallholder farmers, etc), raising household incomes (by way of coffee pricing and premium schemes, sustainable procurement practices, and diversification to develop alternative incomes), managing volatility and promoting alternative pricing mechanisms (through hedging and price risk mechanisms for smallholders and national price stabilization mechanisms), as well as public/private initiatives with clear commitments to address sustainability challenges.
Sette said that the ICO's strategies to assuage the coffee price crisis will be further discussed at its 5th International World Coffee Conference (WCC). Under the theme, "Sustainability Through Consumption," the event, which is held every five years, will take place in Bengaluru (Bangalore), India, 7-9 September 2020. This is the first time the WCC will be held in Asia.
Several coffee roasters such as the Melitta Group and Nespresso discussed their sustainability initiatives and programs during the ICC, but perhaps the most interesting was Quijote Kaffee Collective. The Germany-based roaster buys all its raw coffees directly from smallholder producer communities and puts transparency at the core of its business. Founded in 2010 to be an "economic efficient business," Quijote guarantees prices above fair-trade standards and imports only direct and organic from small producer associations.
Stefanie Hesse and Katharina Scholz of Quijote Kaffee, said they pay USD $2.90/lb for Arabica and $2.60/lb for Robusta, which covers the cost of production. Approximately 60% of the coffee to be imported is prepaid through an interest-free loan to their partner cooperatives at contract and before harvest begins (at contract and delivery take 6-8 months). Quijote pays as much as possible at origin and charges as little as they can for the roasted coffee (selling at about €10.5 per 150g, and for a microlot, approximately €16.5 per 500g. All the contracts and invoices are transparent on the company's website.
Quijote imports only direct from independent, democratic small and medium sized producer cooperatives (several cooperatives have their own exporting companies but in some countries like Guatemala, an external exporter is needed). It does quality control, financing and import handling, and contracts are defined, signed and pre-financed before the harvest. All coffees meet SCA standards for Arabica (minimum of 84 points). Members of Quijote visit every cooperative they work with once a year for at least one week. Evidencing the company's transparency, all the contracts and organic certifications are available on its website.
Quijote Kaffee, which has five partners and five employees, sold approximately 75,600 kg of roasted coffee in 2018, up 16.25% from 2017.
While Hesse and Scholz admitted that it is easier for a smaller company to act in this manner, one audience member commented, "Quijote Kaffee is an example of how the coffee industry can change for the future. If not, in the future, there could be very low production of coffee."
—
While you're here, voting is now open for the inaugural Tea & Coffee Global Supplier Awards. Two awards will be presented – Best Tea Supplier and Best Coffee Supplier. Cast your vote via the Tea & Coffee World Cup website – https://www.tcworldcup.com/awards/
Related content