Newby Teas redesigns its Classic Tea Bag Collection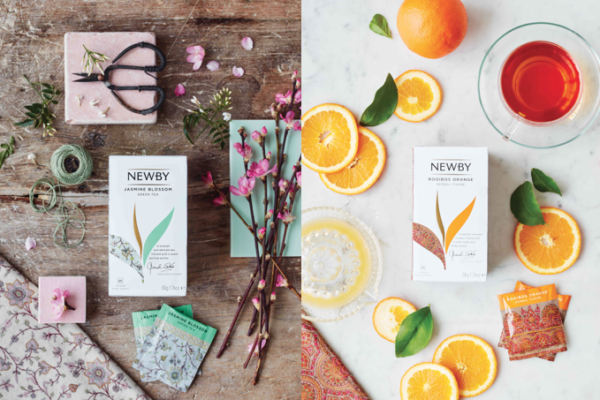 Luxury tea company Newby Teas of London, has relaunched its Newby Classic Tea Bag Collection with new designs inspired by the founder's private collection of tea accessories.
Newby's in-house creative team worked in partnership with London-based branding consultancy, Lewis Moberly, to develop the new branding, which meticulously matches each fine tea's palate with unique, separate pashminas. Each textile is from the private collection of philanthropist and Newby founder, Nirmal Sethia, who is the owner of the world's largest private collection of tea accessories, the Chitra Collection.
"For the relaunch of Newby's best-selling Classic Tea Bag Collection, we chose the timeless theme of craftsmanship. This perfectly reflects our mission to revive an age when people took their time to appreciate tea," said Aneta Aslakhanova, global marketing director at Newby Teas. "The result adds an artistically-excellent and high end collection to the Newby Teas luxury stable."
"At Newby Teas, we are dedicated to reintroducing quality and uncompromising flavour to everyone's cup of tea. We are reviving the luxury and flavour of tea as it was centuries ago, when tea culture and craftsmanship were at their height," said Gwen Hustwit, general manager creative and marketing. "With our Classic Tea Bag Collection, tea lovers can experience the transcendent experience of luxury tea at a price affordable for all."
Each of the 25 varieties in the collection have been illustrated by a different detail taken from the private collection of vintage Indian pashminas owned by the late Chitra Sethia, wife of Newby's founder. The pashminas have been in the Sethia family for over two centuries.
"We are passionate about preserving the flavoured character of our teas, just as my family preserved their priceless pashminas over the centuries. What more fitting a way to celebrate craftsmanship," said founder Nirmal Sethia.
The tone of each design reflects the character of the tea, complimenting Newby's diverse range; from deep green patterns for Oolong teas, to lighter shades for light, delicate, green teas. The range also features classics such as Assam and Darjeeling, along with a selection of Newby's specialty blends such as Black Tea & Thyme and Rooibos Orange. The newest addition to the collection is Earl Green.
Sourced from the finest of the world's tea leaves, picked at the height of their freshness, the Classic Tea Bag Collection (25 varieties), includes:
Black teas: Assam, Darjeeling, English Breakfast, Indian Breakfast, Pride of Africa, Earl Grey, Masala Chai, Black Tea & Ginger, Strawberry & Mango, Black Tea & Thyme;
Oolong & Green Teas: Milk Oolong, Ginseng Oolong, Green Sencha, Jasmine Blossom, Green Lemon, Oriental Sencha, Moroccan Mint, Earl Green;
Tisanes: Chamomile, Peppermint, Verbena, Rooibos Orange, Rosehip & Hibiscus, Summer Berries.
The teabags are presented in beautifully designed, individually-wrapped sachets, allowing ease of everyday use. All Newby Teas are blended and preserved in the company's condition-controlled facility in Kolkata, the only one of its kind in the world (rated the maximum grade of A+ by HACCP for food safety standards).
The Classic Tea Bag Collection is served in Blenheim Palace, Radisson Hotels, Bath Priory and the Hyatt Regency. It is also available online at Newby's e-boutique (www.newbyteas.co.uk) and retails at between £4.40 – £5.50.
Related content