Caravela Coffee recognised in '1000 Companies to Inspire Britain' report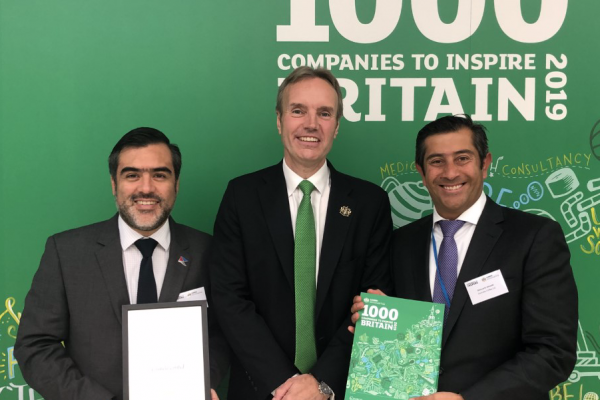 Caravela Coffee has been identified as one of London Stock Exchange Group's 1000 Companies to Inspire Britain 2019. The report is a celebration of the United Kingdom's fastest growing and most dynamic small and medium sized businesses (SMEs), with companies representing over 40 sectors and spanning every country and region across the UK.
To be selected for the list, businesses had to demonstrate not only positive revenue growth over the last three years but also outperform their sector peers. The result is a unique and varied list of the UK's most dynamic companies.
Alejandro Cadena, CEO and co-founder of Caravela said, "We are extremely proud of this recognition, which is a testament that doing good business is good for business too. This recognition is not only a recognition for the Company, but also for all our almost 200 employees worldwide and the more than 4,000 Latin American coffee farmers from whom we source coffee. It motivates us and inspires us to continue working responsibly towards the future of coffee."
"Congratulations to all the companies selected for inclusion in the sixth edition of London Stock Exchange Group's 1000 Companies to Inspire Britain report, which identifies the UK's most dynamic SMEs. SMEs drive growth, innovation and job creation and are the lifeblood of the British economy," said David Schwimmer, CEO, London Stock Exchange Group. "We believe that supporting the growth of these businesses is critical to the UK economy and the creation of a society that works for everyone."
More details on the Companies to Inspire reports and methodology can be found online at: www.1000companies.com.
Caravela Coffee is a Latin American green coffee exporter and importer that responsibly sources coffee from almost 4,000 coffee producers across eight countries in Latin America, the majority of which are smallholder farmers. Almost 90% of the Caravela team is based at origin, most of them agronomists or cuppers providing training, technical support and quality feedback to producers in Colombia, Ecuador, El Salvador, Guatemala, Mexico, Nicaragua and Peru. Alongside its import offices in Europe, North America, and Australia, Caravela is dedicated to bridging the gap between specialty coffee roasters and smallholder coffee farmers, focused on quality, transparency and long-term sustainable relationships.
Caravela has been a B-Corp certified company since 2014 and has been named by B-Labs a Best-for-the-World company the last four years. Caravela is recognized as an industry leader by specialty coffee roasters for its high impact model and its uncompromising quality, transparency and traceability. Caravela was founded in 2000 by two Colombian entrepreneurs, Giancarlo Ghiretti and Alejandro Cadena. In 19 years, the company has built a strong and dedicated team of almost 200 employees from 15 different nationalities. For more information, visit: www.caravela.coffee.
Related content