Caribou Coffee Launches Special Blend for Super Bowl LII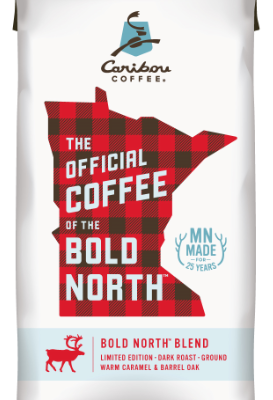 To commemorate Super Bowl LII, which takes place this weekend – Sunday, 4 February – at US Bank Stadium in Minneapolis, Caribou Coffee has introduced Bold North Blend coffee.
This dark roast is full-bodied and crafted with sub-zero Minnesota mornings in mind. Caribou created this blend as a tribute to the northern spirit. "As the Minnesota hometown coffee brand we are proud to be fueling Super Bowl LII. The Bold North Blend is our way of saying welcome to the great state of coffee – join us in the Bold North to celebrate," says John Butcher, president Caribou Coffee.
Caribou Coffee is the exclusive coffee of the Minnesota Super Bowl Host Committee. In the spirit of hometown partnership, Caribou is donating more than 50,000 cups over the course of the 10-day celebration.
"We are thrilled to be partnering with Caribou Coffee and can't wait for the launch of Bold North Blend, as we believe this partnership really adds to the Super Bowl LII experience," says Maureen Bausch, CEO.
Caribou Coffee created the new Bold North Blend exclusively for Super Bowl LII from the top 1% of the world's beans roasted in small batches to create a bold, smooth and rich taste. Like all Caribou Coffee, this blend is also 100% Rainforest Alliance Certified. Bold North Blend is available exclusively in Minnesota Caribou Coffee locations and online.
To learn more or to purchase Bold North Blend, visit: www.cariboucoffee.com/boldnorth.
Related content