Miles Coffee & Tea Launches Limited Edition Christmas Coffee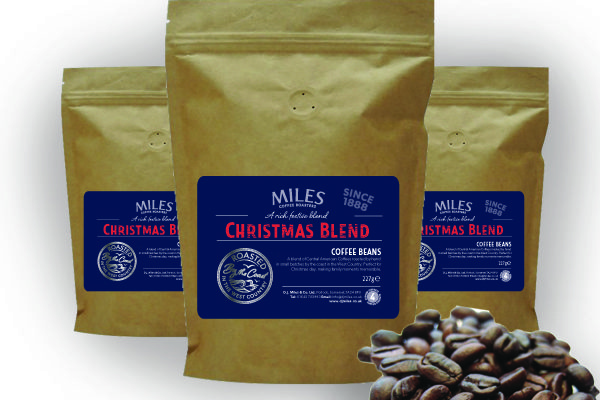 For the 2018 holiday season, Miles Tea & Coffee has launched a limited edition Christmas Coffee. This will join its previously introduced Miles Christmas Tea and Hot Chocolate.
The new Christmas coffee is a blend of Central and South American coffee beans roasted in small batches. The Christmas Coffee, a medium roast, is available in ground or whole beans and may be purchased online at www.djmiles.co.uk or at select specialty retailers until the end of December. The 227g bags have a MSRP of £3.25 (wholesale) and £4.49 (retail).
Miles Christmas Tea (100g Loose Leaf) features black tea and various Christmas spices, making it a perfect "winter warmer." Additionally, Miles is offering Christmas Mulled Tea. The festive mulled tea is flavoured with fruits and spices such as hibiscus, apple, orange peel, cinnamon, and ginger. Created with Miles' proprietary 'Tea Kite' machine, the Christmas Mulled tea comes in new pyramid-shaped teabags. The Christmas Mulled Tea is available in 15-teabag bags for £2.49 (wholesale) and £3.49 (retail).
Founded in 1888, Miles Tea and Coffee is a family-run coffee, tea and hot chocolate business based in Minehead, West Somerset, England. Following a recent rebrand, Miles is promoting the West Country by collaborating with local communities, West Country businesses and sponsorships. Miles products are available in Tesco, Asda, Morrisions, Sainsburys, the Co-op, and other stores. For more information, visit: www.djmiles.co.uk.
Miles is offering a Barista Masterclass on 22 February 2018 and holds Roastery Tours on the last Thursday of every month. Email info@djmiles.co.uk for details.
Related content