Community Coffee Company Introduces Dark Chocolate Peppermint Blend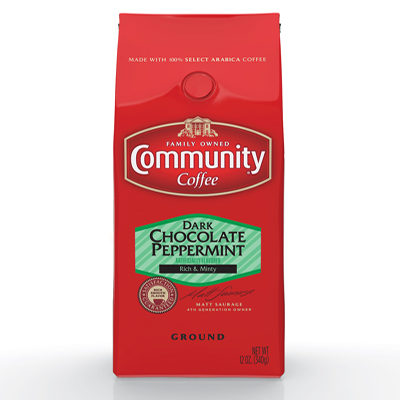 Just in time for the holidays, Community Coffee Company has launched its newest flavoured coffee product, Dark Chocolate Peppermint.
Available for a limited time only in both 12-oz bags and single-serve boxes, Community Dark Chocolate Peppermint coffee offers a decadent blend of rich dark chocolate and smooth peppermint—perfect for holiday entertaining or as an everyday sweet treat. The 12-oz bag has an MSRP of USD $6.49.
"As seasonal coffee flavours become more popular, we wanted to create a blend that coffee lovers could enjoy morning, noon or night," says Jodi Conachen, general manager of communications at Community Coffee Company, Baton Rouge, Louisiana, US. "Our Dark Chocolate Peppermint blend gives our customers a way to indulge in a sweet treat and share the festive flavours of winter with their family and friends."
Like all Community coffee products, this new minty medium roast is made with 100% select Arabica coffee beans. Community Dark Chocolate Peppermint can be found while supplies last in grocery retailers in regional US markets, including Alexandria, Baton Rouge, Lafayette, Lake Charles, New Orleans and Shreveport, Louisiana; Memphis, Tennessee; Birmingham and Mobile, Alabama; Jackson, Mississippi; Austin, Dallas and Houston, Texas; as well as Little Rock, Arkansas. The blend is also available in Walmart Express and Dierberg stores. Restaurants and offices can also order Community Dark Chocolate Peppermint Coffee.
To learn more and to purchase online, visit CommunityCoffee.com.
Related content