TWG Tea awakens a New Year with the Morning Rooster Tea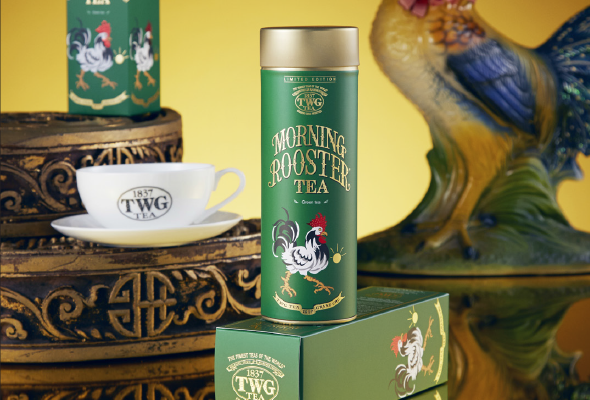 Welcoming the year of the fire rooster, TWG Tea blazes a new beginning with the Morning Rooster Tea, a bold and cheeky blend in celebration of the vivacious and colourful year of the rooster. A spirited blend of black tea and green tea, the Morning Rooster Tea is illuminated by a scattering of silver tips and colourful notes of jasmine, morning rose and orchard fruit.
The latest addition to the Haute Couture Tea Collection, this exquisite tea is packaged in the signature tin design. The sophisticated emerald-hued box makes an ideal gift for loved ones to usher in an auspicious Chinese New Year. The Morning Rooster Tea retails at USD $40.
Celebrating the Year of the Rooster in a contemporary setting, TWG Tea invites tea lovers to experience the greatness of Russian History and the refinement of the Tsar's art of living with the Summer Palace Collection. This porcelain tea service is an original creation, an authentic piece of art to usher in fortune during the festive season. Inspired by an ancestral design, each teapot, creamer, sugar bowl, teacup and saucer, is carefully hand crafted in the oldest and most renowned Russian porcelain manufacture and features exquisite 22ct gold leaf detailing. The Grand Summer Palace Collection ranges from USD $270 to $970. Both are now available at all TWG Tea Salons & Boutiques in Singapore.
During the festive season, TWG Tea is also giving away exclusive designer TWG Tea Red Packets for privileged customers to usher in the auspicious Lunar New Year.
TWG Tea was founded in Singapore in 2008 and celebrates the year 1837 when the island became a trading post for teas, spices and fine epicurean products. TWG Tea, which stands for The Wellbeing Group, was established as a luxury concept that incorporates unique and original retail outlets, exquisite tea rooms and an international distribution network to professionals. TWG Tea is committed to offering teas directly from source gardens with harvests from every tea producing country and exclusive hand-crafted tea blends. TWG Tea also exquisite signature modern tea accessories and tea-infused sweets and savouries. For more information on TWG Tea or to find out where TWG Teas are available, visit: www.TWGTea.com.
Related content