Peet's Coffee Unveils Canned Nitro Cold Brew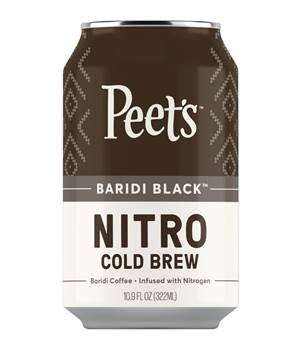 Peet's Coffee has introduced Peet's Baridi Black Nitro Cold Brew to its line of ready-to-drink (RTD) cold brew coffee. The debut of canned Peet's Nitro Cold Brew translates the draft experience of nitro cold brew on-tap in select Peet's coffeebars and on-premise partner locations for enjoyment on-the-go. Nitro Cold Brew elevates the flavour profile of Baridi Blend, its signature cold brew coffee base, with an infusion of nitrogen from unique widget technology within the can, to create an ultra-velvet cascade with a creamy finish.
"Our popular cold crafted beverages sold in Peet's coffeebars continue to drive our innovation and are the inspiration behind our new canned Nitro Cold Brew," says Gretchen Koch, director of marketing and Innovation, Coldcraft, Peet's Coffee, Emeryville, California. "Nitro was the logical next step after the successful 2016 launch of our bottled cold brews. Our new canned nitro lets us further tap into this fast-growing cold brew category, which Nielsen shows has nearly doubled in the last year, with a true draft experience in a can. We are excited for coffee fans to experience the physics of nitrogenization from our widget technology that gives our Baridi Black cold brew a creamy texture and highlights its delicious chocolatey notes."
Coldcraft is Peet's business unit dedicated to the innovation, production, and chilled delivery of RTD and keg beverages. The entire cold brew line is crafted with Peet's freshly-roasted East African Baridi Blend and steeped slowly, without heat, for a crisp and smooth taste. Peet's Cold Brew is kept chilled from start to finish, ensuring freshness and great taste. With cold as its only preservative, Peet's Cold Brew is cleaner than most other caffeinated beverages, providing better energy.
Available in a 10.3 fluid ounce can, Peet's new Baridi Black Nitro Cold Brew will be available primarily throughout the states of California, Oregon, Washington, and Nevada in grocery, natural, and specialty stores, as well as Peet's coffeebars, with a suggested retail price of USD $4.99. It will also be sold at select national grocery retailers.
Find all locations where Peet's Cold Brew is sold at truecoldbrew.com.