Starbucks Opens its First Store in Uruguay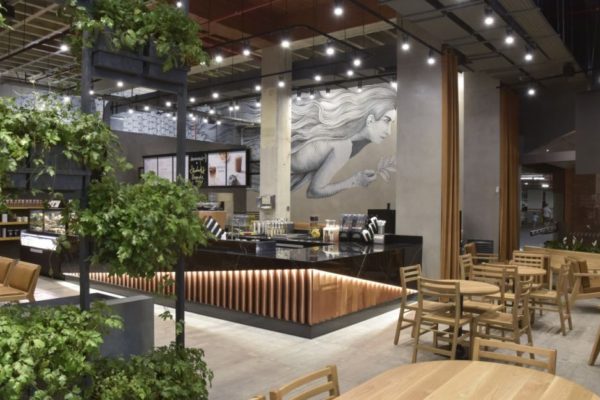 Starbucks has opened its first store in Uruguay in the Montevideo shopping mall in Montevideo, the capital city, on 11 April. International retail and restaurant operator Alsea exclusively owns and operates Starbucks stores in the country.
"Our first store in the beautiful country of Uruguay marks a key milestone for our expansion in Latin America," says Ricardo Rico, Starbucks general manager and vice president for Latin America, who attended the opening celebrations in Montevideo. "At Starbucks we all look forward to welcoming customers to the beautiful Montevideo store and sharing some of the finest coffees from around the world. We want to thank the community for this warm welcome and celebrate our journey to Uruguay with our longtime, trusted partners at Alsea."
"We're filled with pride to open our first Starbucks store in Uruguay, which bolsters, without a doubt, our solid growth strategy in the region," says Federico Tejado, director of Alsea International. "It also represents our first step in the local market, where we hope to close the year operating at least five stores of the brand. We hope to reach 10 stores in operation by 2020 and generate more than 130 direct jobs."
Starbucks first entered Latin America in 2002 and since then, Alsea has expanded Starbucks retail operations to include Mexico, Colombia, Argentina, and Chile, together operate more than 900 Starbucks stores in these markets. Alsea will similarly own and operate Starbucks retail stores across Uruguay. The opening in Uruguay marks Starbucks 77th global market, and 18th in the Latin America and Caribbean region.
The new store will offer 100% Arabica coffee from Latin America and around the world consistent with Starbucks commitment to ethical sourcing. Customers can enjoy customised hot and cold handcrafted espresso beverages. The menu will also feature signature items like Starbucks Frappuccino blended beverages, hot or cold brewed coffee, an assortment of food, tea, as well as grab-and-go options.
The store features a mural painted by Nicolás Alfalfa, a local artist from the city of Montevideo. Alfalfa illustrated the Siren, the iconic symbol of the Starbucks brand, over a concrete finish. The Siren extends through the back perimeter of the store and can be observed from any point within the space.
"We are proud to present a one-of-a kind store that will make all our partners and customers in Uruguay feel proud," says Pablo Jaratz, general manager of Starbucks Uruguay. "Our passionate and knowledgeable baristas have spent many months training with some of our best Starbucks baristas, coffee masters and experienced partners. We feel honoured and ready to bring a truly unique coffeehouse experience to this market."
Starbucks Uruguay also announced a collaboration with Ceprodih (Center to Promote Human Dignity Foundation), a nonprofit organisation in Montevideo working to promote and protect the rights of people facing barriers to opportunity. Starbucks Uruguay has committed to support a long-term project focused on women that aims to promote economic stability for women and their families through access to training and employment resources.
Prior to the market opening, Starbucks partners in Montevideo also volunteered more than 100 hours of community service with Ceprodih to help refurbish and beautify the nonprofit's new headquarters where clients receive services.