Starbucks Opens Reserve Roastery & Teavana Tea Bar in Shanghai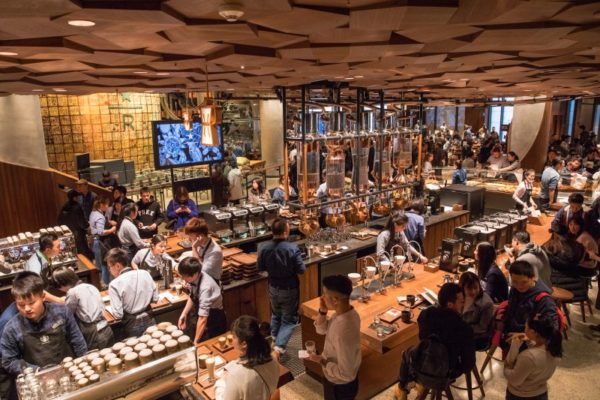 Starbucks opened its second Reserve Roastery today in Shanghai, three years after the inaugural Seattle Roastery.
The Reserve Roastery, located at 789 Nanjing Road W, is the epitome of coffee and retail innovation for Starbucks in China, the company's fastest-growing market with more than 3,000 stores across 136 cities. Starbucks already has more than 600 stores in Shanghai – the largest number of stores in any city where Starbucks has a presence.
As customers enter the Roastery, and step through the front doors of the 2,700-square-meter (30,000-square-foot) building, they are greeted by a two-story copper cask, adorned with more than 1,000 traditional Chinese chops, or stamps, hand-engraved to narrate the story of Starbucks and coffee, and a ceiling made of 10,000 handmade wooden hexagon-shaped tiles, inspired by the locking of an espresso shot on an espresso machine. There are many attractions including three coffee bars offering multiple brewing methods, a Teavana tea bar, and freshly baked Italian artisanal food by Princi.
"The affinity we have built with our partners (employees) and customers over the past 18 years in China is special and we knew we must bring the Reserve Roastery, our boldest, most premium store ever, to Shanghai, China's bustling metropolitan hub and one of the world's most dynamic retail destinations, as well as a gateway to customers from across Asia and the world," says Howard Schultz, executive chairman of Starbucks Coffee Company. "We've created a space that both recognizes and celebrates our 46-year history of coffee leadership and retail innovation with China's rich, diverse culture."
For the first time ever, unique, small-lot Reserve coffee which Starbucks sources from more than 30 countries around the world, including coffee from China's Yunnan Province, will be roasted in China by eight Starbucks-trained Chinese coffee roasters. Customers can watch the green beans as they are roasted, then sent through copper "symphony" pipes (named because of the musical sound the beans make as they travel through them) directly to silos at the coffee bars, where customers can enjoy a fresh cup of Reserve coffee, or to the in-house pack line to be packaged for distribution across Starbucks Reserve stores in China.
The three wooden coffee bars, including one that is 27 meters (88 feet) long – the longest at any Starbucks – are handcrafted by Chinese artisans and reference the unique roasting curve of individual coffee beans. The bars serve as the stage where hundreds of baristas will handcraft some of the rarest, small-lot coffees in the world using one of six brewing methods: ModBar Pour Over, Chemex, Coffee Press, Siphon, Espresso, and the proprietary Clover-brewed coffee.
The Yunnan Reserve coffee, grown in Pu'er in Yunnan Province, is roasted and available exclusively at the Roastery in Shanghai. It's the culmination of Starbucks ongoing, deep commitment to Chinese growers. Since 2012, agronomists at the China Starbucks Farmer Support Center have worked closely with farmers and the government to provide resources and expertise to improve quality and promote sustainable coffee-growing practices. Like the Shanghai Roastery, the Yunnan Reserve coffee is made "In China, For China." The introduction of Yunnan Reserve coffee also signifies an important step in completing the Starbucks China supply chain, delivering premium coffee from bean-to-cup, and now introducing a rare, exquisite, yellow honey-processed cup of Yunnan coffee to a global audience.
The Shanghai Roastery is the first Starbucks location, and the first-of-its kind in China, to seamlessly integrate a real-time, in-store and online customer experience. Roastery customers are invited to immerse themselves in the first Starbucks augmented reality (AR) experience – accessible through the custom-designed Roastery digital web-app platform or on Alibaba's Taobao app – by pointing their mobile devices at key features around the Roastery to access information about the Starbucks bean-to-cup story. To help customers create their personal Roastery discovery journeys, the Roastery digital web-app platform also incorporates a digital menu and will, intuitively through AR technology, share details of the coffee bars, brewing methods, and more. Each step of the way, customers unlock a virtual badge and once all badges are earned, they receive a custom Roastery filter to commemorate the moment and share on social media.
The AR experience also extends to Alibaba's online marketplace, Tmall, allowing customers to purchase Shanghai Roastery and Reserve-branded merchandise and whole bean coffee for delivery directly to their homes, or to register for specially curated coffee tasting experiences offered at the Starbucks Roastery in Shanghai.
The new Shanghai Roastery also features China's first Starbucks Teavana Bar, an entirely modern tea experience specifically designed for Chinese customers. While demonstrating deep respect for the thousands of years of Chinese tea tradition, the Starbucks Teavana Bar reimagines a modern tea experience for customers who increasingly seek new and different tastes and experiences. Customers may select a Teavana signature pure tea or blend, served either hot or iced. Tea curators handcraft unexpected creations with tea mixology as well as nitrogen and tea. Steampunk brings together science and theater with its entirely new tea-brewing method.
Inspired by the traditional clay teapots in China, the tea experience bar is a light jade color with dark shadows to represent tea stains formed in a teapot over time. It is also the only tea bar created from recycled materials using a 3-D printer, measuring 7.5 meters (25 feet) in length.
Starbucks also announced that the Starbucks Foundation and Starbucks China plan to make charitable donations totaling approximately USD $20 million (RMB 132 million) over the next five years to drive social impact in communities across China.
"We firmly believe it is our role and responsibility to use our scale to give back to the communities as we continue to grow in China, and with the people of China," says Belinda Wong, chief executive officer of Starbucks China. The Starbucks Foundation's charitable donation is part of its ongoing global commitment to giving back.